Tuesday, December 06, 2005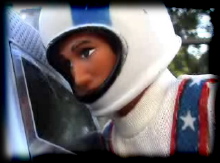 Click image to view video
Learn German with Übel Knübel!
This is the second episode in a series of videos to help you learn to understand, read, and speak German. To get scripts, the assistance of a teacher, online discussions, self-checks, and high school or GED credits, go to
MyGermanClass.com
and sign up for an open enrollment German class that you take at your own place, at your own pace, on your own time.
Übel Knübels Welt was conceptualized, produced, and created by clark shah-nelson
with music by
Socks and Sandals
. The class is taught as part of the
Colorado Online Learning
non-profit course offerings. For more info visit
MyGermanClass.com
Comments:
I've chosen to study German out of necessity, but I've never thought it could be learned the fun way. Well, I was wrong!
Vielen Dank Herr Prof. Shah-Nelson!
Among these shows, ubel Knubel's is one of my favorite. Howeveer I find Mrs. Knubel's head a little bit disturbing. And she seems always unable to take even the most stupid of decisions, as she keeps saying "for this ask your father... for that ask your father...".
Post a Comment
<< Home
http://blip.tv/file/get/Clarkshahnelson-UbelKnubelsWelt2703.mov